Anti-Slip Safeplate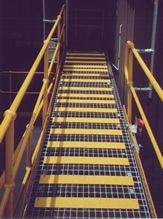 Advance Anti-Slip Safeplates are a flat steel backed product with a high, solid, heavy duty anti-slip surface. It is designed for application in slippery or hazardous areas to provide firm footing, even after heavy spillage and soilage.
Advance Anti-Slip Safeplates can be produced to suit any type of area that can be slippery, hazardous and dangerous i.e. steel mesh/grille, checkered plate, aluminium plate, concrete, timber.
Product Features
Provides secure footing on wet & oily surfaces
High impact resistance
Excellent chemical & UV resistance
Pre-drilled for simple installation
Long effective life
Easy to clean
Method of Installation
Over Grille: Use universal bolt & clamp assembly
Over Steel - Aluminium - Masonry - Timber: Use self-tapping screws, countersunk screw or rivets with a silicon sealer under the edges.
Over Concrete: Drive nails with a silicon sealer under the edges.
Standard Sizes - Guide only (We do make to order!)

Width (A)

Depth (B)

200mm

100mm

400mm

200mm

600mm

400mm

750mm

600mm

900mm

1200mm
For more information or to discuss the requirements of your project, please contact us today.
Online Checklist and Request for Quote