Anti-Slip Ladder Covers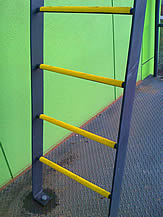 Advance Anti-Slip Ladder Covers with the semicircular or rectangular bend are a steel backed product with a high, solid, heavy duty anti-slip surface. It is designed for application in slippery or hazardous areas to provide firm footing, even after heavy spillage and soilage.
Advance Anti-Slip Ladder Covers are designed to snap fit to any type of ladder rung i.e. square, rectangular or rounded. By ensuring the Ladder Cover is the same shape as the ladder rung, a complete contact is made with the entire Ladder Cover to the ladder rung which provides maximum adhesion between the two. This range of product can be produced to suit all ladder rungs.
Product Features
Provides secure footing on wet & oily surfaces
High impact resistance
Excellent chemical & UV resistance
Simple adhesion and clip on action
Long effective life
Easy to clean
Method of Installation
Ensure ladder rungs are free from all dirt, oil, grease and paint.
Apply 5mm of Advance's recommended
Adhesive to the inside of the ladder cover.
Snap fit to ladder rung.
Allow 6 to 8 hours to cure.
Standard Sizes - Guide only (We do make to order!)

Width (A)

Diameter of Rung (B)

250mm

20mm

300mm

25mm

350mm

30mm

400mm

35mm

450mm

500mm
For more information or to discuss the requirements of your project, please contact us today.
Online Checklist and Request for Quote