About Us
Background
Advance Anti-Slip Surfaces Pty Ltd is the foremost Australian owned manufacturer of a range of superior Class One metal backed antislip products, with an enduring commitment to ensure that Australia develops as a centre for excellence in pedestrian access safety throughout the safe surfaces industry.
Advance Anti-Slip began trading as a family business in May 1990. Since then, the company has continued to develop an impressive array of safety elements to protect pedestrians from slips, stumbles, trips, tumbles, topples and falls on steps, stairs, entryways, landings, platforms, walkways, ramps, and ladders, showing itself to be a dynamic and major force in the global tractive safety industry.
Since its inception, advance Anti-Slip has always had a strong commitment to sourcing the highest quality materials to ensure unequalled product performance, reliability and durability.
To ensure continuing product quality, greater control of the manufacturing process and prudent asset investment, creating Advance Anti-Slip's own production, research and development facility became essential. The Advance Research and Development hub was then established.
The Advance Research and Development Centre, located in Glen Waverley, Victoria, is actively involved in innovative product and application development on an international level. We collaborate with our clients, resellers and product specifiers on many projects to solve pedestrian safety issues.
Advance's continued success has been achieved by building long term relationships with its customers, resellers, product specifiers and distributors, and by maintaining the highest possible levels of responsiveness, reliability, quality products and service, combined with the ability to supply first-class products on time and in full.
Advance Anti-Slip products are of such high-quality, they are specified for use in the construction, defence, education, energy, engineering, food and beverage, government, health, hospitality, manufacturing, mining, petrochemical, safety, and transportation industries to solve problems relating to accidents, incidents and injury from unsafe pedestrian access areas.
With Advance Anti-Slip Surfaces – you're One Step Ahead!

Advance Company Philosophy
Advance Anti-Slip Surfaces Pty Ltd has identified the following areas as the essence of its corporate philosophy.
Continual Product Development
Advance Anti-Slip maintains its focus by continually reinvesting in production facility upgrades, product manufacturing methods, product research and development, and sourcing first-class materials in order to maintain the highest possible quality nonslip products available.
Customer Focus
We engage, consult and collaborate with our customers, resellers, distributors and product specifiers to determine their specific requirements in order to provide the most appropriate non-slip product solution to meet their needs.
Quality Guarantee
Ensuring strict levels of product quality for any element manufactured or distributed by Advance Anti-Slip Surfaces and the conformance to applicable national and international compliance requirements for quality, performance and safety, backed by an extensive warranty.
Advance Design Philosophy
Design superior quality, cost effective and durable antislip products that meet the demanding safety needs for all industry sectors.
Advance Anti-Slip Surfaces actively seeks input from customers, resellers, distributors and specifiers so that the expressed needs of the customer are addressed at all stages of the design process.
All Advance Anti-Slip products must reflect the quality, performance and safety requirements for compliance today and into the future. This philosophical requirement is incorporated into the design rationale of the research and development team.
Product development must take into account the company philosophy of providing the "Total Cost of Ownership Solution". Advance's commitment to quality in both materials and service applies for all products.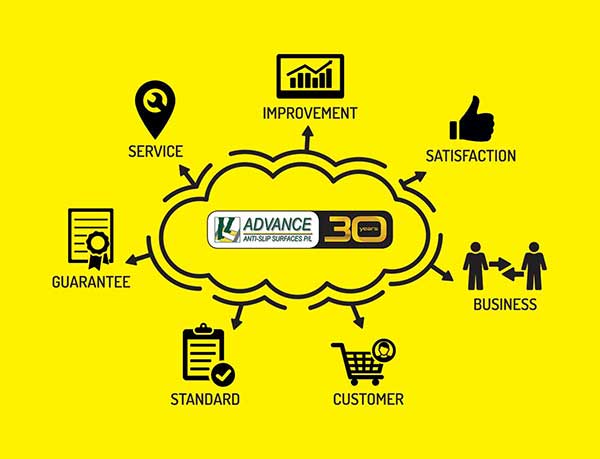 Research and Development
Advance Anti-Slip Surfaces is committed to continued product research and development.
Through its essential philosophies of continual product development, customer focus and quality guarantee, Advance Anti-Slip is able to meet the developing needs of the market and bring customers a prompt and sustainable advantage in the acquisition and application of innovative technology as well as any new improvements of raw materials sourced for the manufacturing process.
The continuing expansion, enhancement and development of the Advance Anti-Slip product range ensures that Advance Anti-Slip Surfaces keeps abreast of the changing industry standards and market expectations.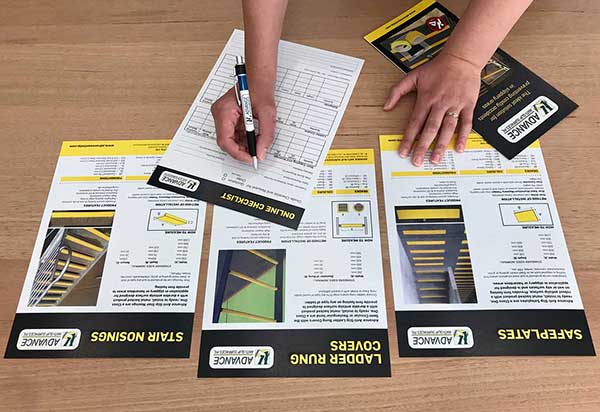 This makes the investment in the Advance Anti-Slip product range an enduring prospect.