Antislip Conveyor Channel Cleats
Injuries resulting from incidents on an incline mesh type walkway or ramp can reach up to a thousand each year. They can be minor medically treated injuries like cuts, fractures, bruises and dislocations, which happen more frequently, however more serious injuries can happen as a result of slips as well.
Advance Anti-Slip Surfaces manufacture a concise range of Class One, ready to install, metal backed antislip conveyor channel cleats with a durable nonslip surface designed to provide firm footing on any type of grating mesh conveyor ramp, platform or walkway, even with a sharp incline.
Conveyor Channel Cleats come in a standard profile of 10mm high by 50mm in depth and widths from 580mm to 1180mm long, and are created to provide maximum protection against slips, stumbles or tumbles on incline mesh or grating walkways, ramps or platforms.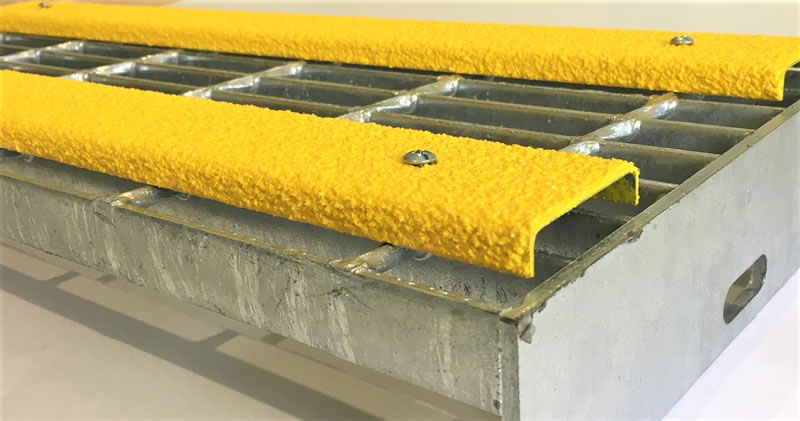 When Advance Anti-Sip Surfaces' Conveyor Channel Cleats are installed on internal or external access incline walkways or ramps, all pedestrian traffic will be better protected. Workers and visitors will have safer walking conditions indoors and outdoors, resulting in greater safety and a reduction in injury costs for the organisation.
Our nonslip conveyor channel cleats are extremely durable and constructed to withstand wear and tear of even the heaviest pedestrian traffic.
AS 1657 – 2013 Section 5.3.2 Slip Resistance
Slip resistance shall comply with clause 3.1.3
Where the angle of slope of the walking surface is between 10° and 20°, the surface shall have cleats fitted across the full length of the walking surface at 90° to the direction of travel
AS 1657 – 2013 Section 5.3.3 Cleats
Cleats shall be of metal, not less than 10mm x 10mm and evenly spaced at the following intervals;
At slope angles >10° to ≤15° : 450mm
At slope angles >15° to ≤18° : 400mm
At slope angles <18° : 350mm
This product range is metal backed with either one of following types of steel used as the foundation:
Galvanised 1.2mm (standard)
Aluminium 1.6mm (optional)
Stainless Steel 1.2mm 316 Marine Grade (optional)
This product range comes in the following carborundum grades:
Industrial 24 (optional)
Heavy Duty 20 (standard)
Offshore 16 (optional)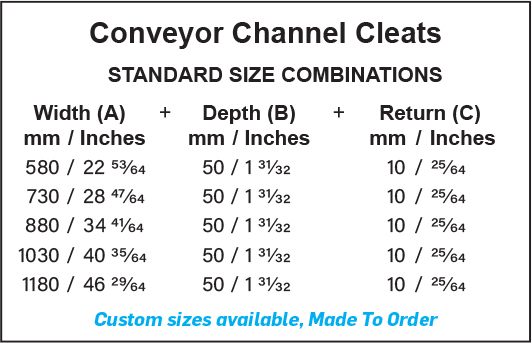 Installation Guide
Universal Clamp Assembly (pictured) at regular intervals,
Pre-drilled holes come as standard,
If additional holes are required, mark the hole positions and drill through from the underside of the foundation,
Make sure there are sufficient holes to anchor the conveyor channel cleat to the grating structure.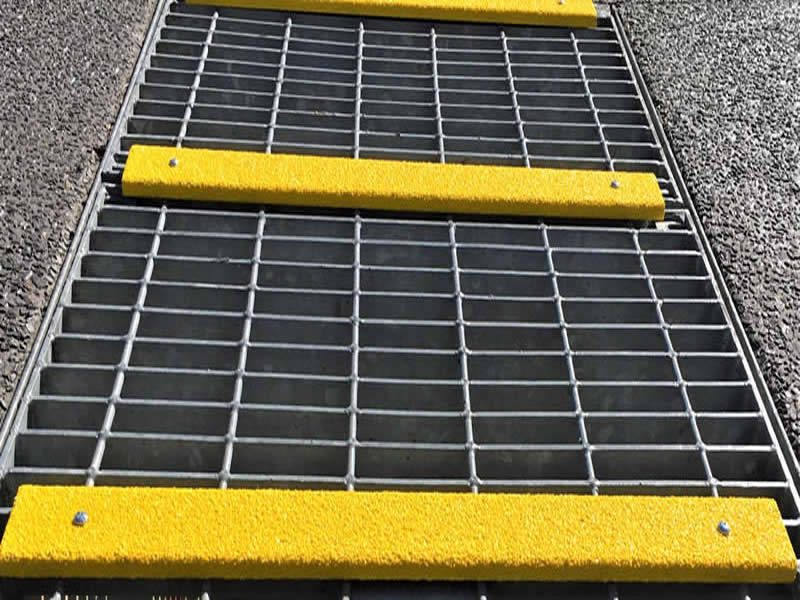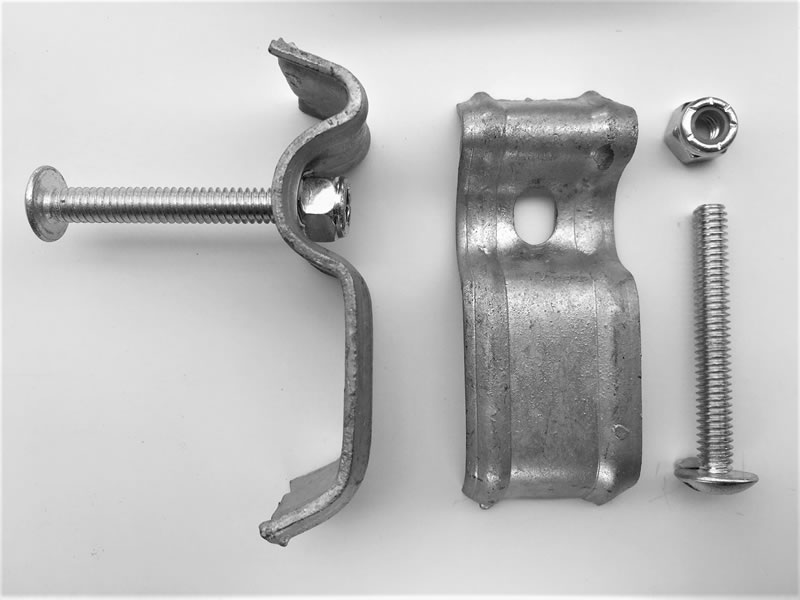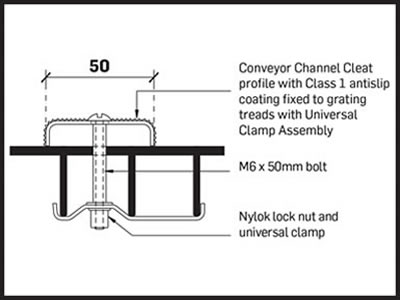 Product Benefits
When Advance Anti-Sip Surfaces antislip conveyor channel cleats are installed, some of the benefits are:
Superior slip prevention in incline walkways, ramps, platforms and pedestrian access areas,
Has a long effective life,
Robust, durable, reliable,
Easy to clean,
No down time, simply install and they are ready to walk on
Can easily be replaced if damaged,
Reduces costly injuries.
Product Features
Here are some of the many features of Advance Anti-Sip Surfaces antislip conveyor channel cleats:
Made with strong metal backing,
Pre-drilled for simple installation
Bright Safety Yellow nonslip coating,
Other colour options available,
Custom make sizes available
High impact resistance
Excellent chemical & UV resistance,
Suitable for all walkway applications,
Australian Standards compliant,
Covered by Advance Anti-Slip's extensive warranty